What is EIFS:
EIFS is an acronym standing for Exterior Insulation and Finish System. It is also known as synthetic stucco because it resembles the look and feel of conventional cement stucco.
EIFS is an exterior cladding for commercial and residential properties. It is comprised of a weather resistive barrier, drainage plane, insulation board, glass fiber reinforcing mesh, base coat, primer and a finish coat.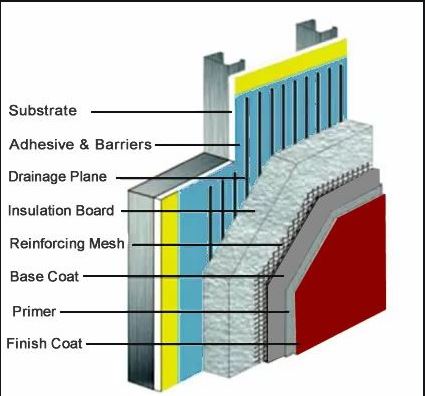 The EIFS industry gained national exposure in 1995 as numerous houses clad with this system began to show severe signs of water infiltration, rotting wood and mold (see picture 2). Class action lawsuits were filed against the manufacturers of EIFS (Articles 1 & 2). Insurance companies such as Maryland Casualty stated they would no longer issue builder's liability insurance to EIFS clad homes. In March of 1999 Dateline NBC did a segment entitled Is Your Home Crumbling Around You? All fingers were pointing toward EIFS and its inability to properly manage water infiltration. "EIFS Facts" by Douglas Pencille.
Upon closer examination it was found that the EIFS cladding provided an exceptional building envelope. Properly installed EIFS is an aesthetically pleasing and durable siding which performs well in any environment. However, if water infiltrates the system through such avenues as faulty windows (see picture 3), improper flashings (see picture 4), below grade application (see picture 5), or faulty workmanship (see picture 6), the water will get trapped between the wood sheathing and the EIFS system. This system, which is so effective at keeping water out of the building now traps the water inside the building envelope. The result is rotting wood, insect infestation, mold and other damage caused by the trapped water (see picture 7).
It was for this reason that in October of 1998 EIMA (EIFS Industry Members Association) recommended that all EIFS installed on one and two family residential dwellings receive a "water-managed" application. Simply put, the foam could no longer be attached directly to the wood sheathing but must incorporate a weather resistive barrier with a drainage plane over the wood with proper flashings and terminations to allow incidental water to escape the EIFS cladding.
What does this mean for you?
Don't panic if your home is clad with EIFS.
We recommend you do the following:
Removal and replacement of your EIFS System
CS Stucco is uniquely qualified to remove the existing EIFS and replace it with a new water-managed system. We have been in the plastering business since 1983 and are fully capable of coordinating the different trades. We have successfully completed hundreds of projects and can provide referrals from home owners and builders. Our company was incorporated in 1987 and we have not changed our name since. This indicates that we not only provide an exceptional job but are willing to stand behind our workmanship. Please see our testimonials.
Replacing the EIFS requires coordinating several trades such as electrical, sheathing, landscaping, windows, flashing and roofing work. We will coordinate these trades so you don't have to. The bottom line is that upon completion you can be assured that the building envelope will function properly. A warranty will be issued upon completion along with digital pictures of the work in progress.
Again – don't panic! CS Stucco will come along side you and guide you through the process. Please allow us to prove that our slogan of Craftsmanship with Integrity since 1987 is not just words but defines who we are.
Please see below a few before, during and after pictures of EIFS homes that were replaced with a new stucco/ stone system.
Give us a call or fill in the form below and we'll contact you. We try to answer all inquiries within 24 hours on business days.